About this recipe
Love a good Sandwich? This simple easy-to-make vegetable sandwich will blow your mind. I got fond of Sandwiches from a very young age as my mother used to prepare them for me in the morning or for my lunch box and I still get very excited to try and have new versions of them. And what makes me happier is that my kids too love it so much so that's a plus one for me to make it once or twice a week sometimes even more.
In this recipe, I will show you how to make a simple vegetable sandwich by just using a few ingredients like Potatoes, Tomatoes, Cucumber, Mint Cilantro Chutney, and Cheese Spread. Can easily be made within a minute and doesn't need any professional cook for it. The Cheese spread and the mint Chutney will be a game-changer in this recipe. Potato is one such vegetable that can be a tummy filler as well as a taste changer in your sandwich recipe.
This creamy yet crispy Cucumber, Potato, and Tomato recipe will surely be your comfort food too. Feel free to add as many veggies or sauces as you prefer for that perfect family weekend of yours. The benefits of having a Sandwich that is made at come are that it's super fresh as all the veggies that are being used are from your own kitchen garden or else are bought fresh from a grocery store, you have all the control over what to add and what not to.
This is my way of making this amazing sandwich recipe for all vegetarian sandwich lovers out there. Let me know your experience having and making this recipe also it would mean the world if you would take a moment to check my other uploaded sandwich recipes on my blog. Do recommend it to your family and friends for making their's as well as your weekend memorable.
Serve it with Chutney, snacks, tea, etc…
Enjoy!
For more delicious and easy-to-make sandwich/ chutney recipes click on the links below-
What is a Sandwich?
A sandwich is a food typically consisting of vegetables, sliced cheese, or meat, placed on or between slices of bread, or more generally any dish wherein bread serves as a container or wrapper for another food type.
Different types of Vegetarian Sandwiches
Sandwiches are the perfect food for breakfast, lunch, and dinner since there are so many variations! From the classic Potato sandwich to the pasta and cheese sandwich the options are endless. So, down below I will list a few popular Vegetarian Sandwiches.
Grilled Cheese and Potato Sandwich
Grilled Cheese Pesto Sandwich
Avocado Sandwich
Vegetable Grilled Cheese Sandwich
Crispy Tofu Sandwich
Smashed Chickpea Avocado Sandwich etc.
Ingredients for making this easy-to-make 2-minute sandwich are-
Bread
Amul cheese spread
Coriander chutney
Tomatoes
Cucumber
Potatoes
Chat masala
Ground black pepper
Steps for making this easy-to-make 2-minute sandwich recipe are-
Step-1 To make this fresh quick 2-minute sandwich recipe we'll need boiled potatoes sliced, tomatoes, sliced, cucumber sliced, cheese spread, and coriander chutney. Now take a generous amount of cheese spread and apply it to on to one of the sides of your bread.
Step-2 Now to the other side of the bread apply your chutney.
Step-3 Add slices of tomatoes and cucumber on top of your chutney.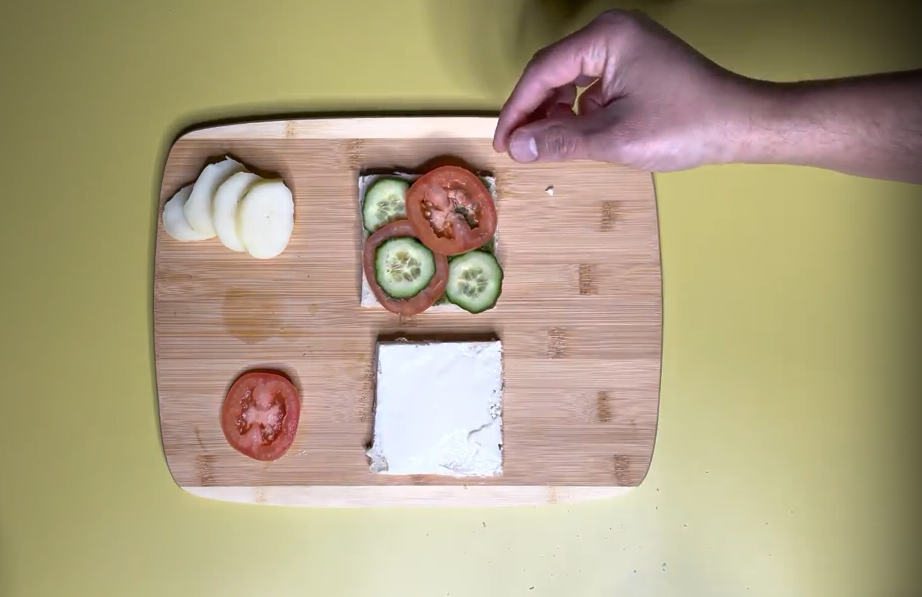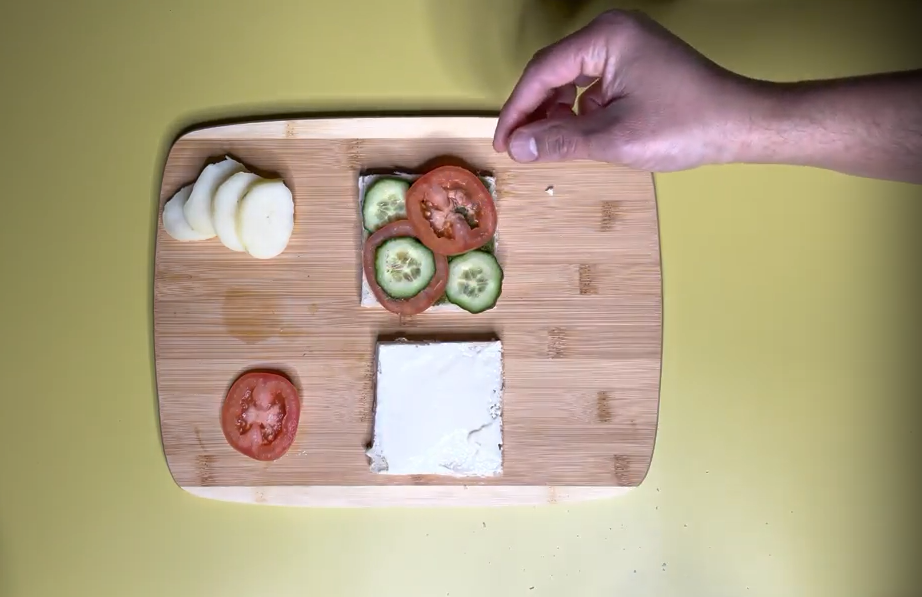 Step-4 Add slices of potatoes to it, add chat masala, and ground black pepper according to your own taste.
Step- 5 Our easy-to-make 2-minute sandwich is ready.
Fresh easy-to-make 2 minutes Sandwich
Ingredients
Bread

Potatoes

boiled, sliced

Tomatoes

sliced

Cucumber

sliced

Amul cheese spread

coriander chutney

chat masala

ground black pepper
Instructions
To make this Quick recipe we'll need Bread, Cheese Spread, Mint Coriander Chutney, Boiled Sliced Potatoes, Cucumber, Tomatoes. 

Take one bread and apply a generous amount ofCheese spread to it according to your preference.

Now take another slice of bread and apply chutney on it.

To it add sliced Tomatoes and cucumber on top of a slice.

To it add Sliced Potatoes on it add Chat Masala and Ground Black Pepper.

Place another slice of bread onto it cut it into half and serve. Our 2 Minutes Sandwich is ready.