India has a diverse and rich culture that makes it the best place for flavorsome food. No matter which region of India it belongs to because each and every dish is unique in its own way. Indian cuisines are world-famous for their combination of extraordinary spice, fresh vegetables, and heroic flavors. Traditional recipes have their own charm- second to none.
Kashmiri Dum Aloo is a delicacy from the snow-capped mountains with bursting flavors. It is excellent with both rice and roti or puri. You can add variations to the dish but make sure the curd isn't sour. Dum cooking is a technique of cooking food on a slow fire by sealing the edges to avoid the steam from escaping, bringing excellent flavors to the dish.
About Kashmiri Dum Aloo Recipe
This delightful vegetarian dish has its origins in Kashmir, making it even more special and savory. Kashmiri Shahi Potato Curry, popularly known as Kashmiri Dum Aloo, is simply prepared using baby potatoes, curd, and amazing spices. The curd forms a creamy base for the curry giving it a beautiful flavor- you've never tried before! Don't worry; it is not as spicy as it looks because it has a cooling yogurt base, and you can obviously put in low to medium spices according to your preference. Treat your family to an extremely scrumptious meal on a Sunday Funday. Here is how to make authentic Kashmiri Dum Aloo with easy and quick steps. You will fall in love with it the very moment you take the first bite.
Here are my other Curry recipes which I made especially for you all.
Ingredients required for making kashmiri dum aloo recipe:
Baby Potatoes
6 tbsp. Oil
1/2 tbsp Cumin Seeds
Cloves Crushed
Cinnamon Stick
Bay Leaf
Black & Green Cardamom
Red Chilly Paste
1/2 cup Yogurt
1 tbsp salt
3 tbsp fennel Powder
1/2 tbsp Ginger Powder
1/2 Garam masala
1 tbsp Sugar
Asafoetida
Water
Stepwise instructions with images on how to make kashmiri dum aloo recipe: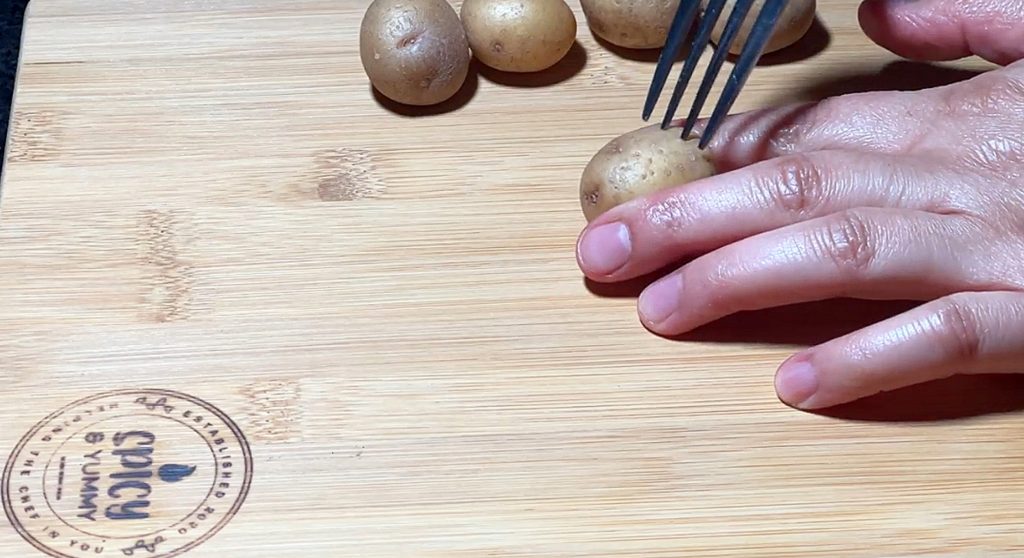 Why should you try the Recipe?
It is a tempting and incredibly flavored dish. But wait, that is not it, the main ingredient of our recipe is quite healthy. Potatoes have been a staple food in Europe, Asia, and major parts of America, since the 16th century. They are the most versatile root vegetable cooked and loved in every household.
Kashmiri Dum Aloo is a superb sabzi that tastes finger-licking good. Some might make them dry, while others prefer it with gravy. You could even roast or stream-peel your baby potatoes instead of frying them. Also, Kashmiri Pandits traditionally cook it without any onions, but you can add some for your taste buds if you want. Feel Free to decide for yourself because they are delicious in every way.
I would personally suggest you have Kashmiri Dum Aloo during the rainy season or winters. It is perfectly heavenly for an Indian Family Dinner or even Lunch. You can serve the dish with butter naan, tandoori roti, plain paratha, or any flatbread of your choice. Kashmiri Dum Aloo even goes well with jeera rice or steamed basmati rice. I am sure your family will love this mouth-watering dish. Try it today!
Benefits of Potato (Aloo):
They are packed with many essential nutrients like vitamins and minerals that prevent diseases and aid in the proper functioning of your body.
Potatoes are rich in antioxidants that prevent diseases such as diabetes, cancer, and heart disease.
It contains a special type of starch that improves blood sugar control.
Do You follow a gluten-free diet? Well, potatoes are naturally gluten-free, so don't just keep waiting and add them to your diet today.
Kashmiri Dum Aloo
Are you bored of the regular potato sabzi? Try the Kashmiri Dum Aloo Recipe-baby potato simmered in yogurt gravy spiced with fennel and ginger powder!
Ingredients
Potatoes

Baby

6

tbsp.

Oil

1/2

tsp

Cumin Seeds

Cloves

Crushed

Cinnamon stick

Bay Leaf

Black & Green Cardamom

Red Chilly paste

1/2

cup

Yogurt

1

tsp

Salt

3

tsp

Fennel Powder

1/2

tsp

Ginger powder

1/2

tsp

Garam masala

1

tbsp.

Sugar

Asafoetida

Water
Instructions
Preparing

-Take baby potatoes fork them nicely from all the sides.

-Put them in saltwater for a while.

-Take them out dry the excess water out of them

-Let's fry them.

-As they start to turn golden and crispy take them out.

-Potatoes are fried.

Cooking

-Take a pan.

-Add oil to it.

-To it add Cumin Seeds, Cloves, Cinnamon stick, Bay leaf, Black and green cardamom.

-Let them fry nicely.

-To it add Red Chili Paste and give it a mix.

-To it add Yogurt and quickly start stirring it.

-While mixing add Salt, Fennel powder, Ginger powder, Garam masala, sugar, and Asafoetida.

-Add some water to it and let it boil.

-Once it starts to bubble up add fried potatoes into it and let it boil for a while.

-Our Kashmiri Dum Aloo is ready.
Nutrition
Calories:
190
kcal
Carbohydrates:
5
g
Protein:
1
g
Fat:
19
g
Saturated Fat:
2
g
Polyunsaturated Fat:
5
g
Monounsaturated Fat:
11
g
Trans Fat:
0.1
g
Cholesterol:
3
mg
Sodium:
478
mg
Potassium:
65
mg
Fiber:
1
g
Sugar:
4
g
Vitamin A:
28
IU
Vitamin C:
0.4
mg
Calcium:
46
mg
Iron:
0.4
mg
---
You can eat naan or rice with your Kashmiri Dum Aloo,
To enjoy the exotic flavors that you never knew!