Are you bored of eating the same red, yellow, or black dal? Well, we all know lentils or dals are very versatile. Dal Palak Curry can satisfy both your stomach and soul. It is a South Indian Dish, originally from Andhra Pradesh, known as Palakura Pappu. The Spinach adds extra nutrition and zest to the dal. It is a superfood you and your kids need in their balanced diet.
Palak enhances the taste of everything it is added to. Some savory Palak dishes are Palak Paneer, Palak Rice, Aloo Palak, Palak Chicken, Palak Pakora, and Palak Shorba.
About homemade quick dal Palak Recipe
You just need some basic ingredients to cook this absolutely delicious dal at home. It is quite simple and takes less than 30 minutes. This dal is loaded with the goodness of Spinach and can be cooked in a pressure cooker, an instant pot, or a pan. The combination of Dal Palak is purely divine and healthy. I am pretty sure your whole family will love our Dal Palak Recipe. Just follow our easy step-by-step guide with pictures.
Ingredients required to make homemade quick dal palak recipe:
2 tbsp. oil
1/8 tsp Asafoetida2 Red chili Dry
1/2 tsp Cumin seeds
1 tsp Garlic Crushed
1 tsp Ginger and green chili Crushed
1 Onion
1/4 tsp turmeric powder
1/2 tsp Red chili powder
1/4 tsp Garam masala
1/2 tsp Salt
1 tsp Tomato paste
Spinach leaves
Boiled Dal
Lemon Squeeze
Stepwise Instructions on how to make homemade quick dal palak recipe:
Dal Palak Variations-
You'll be happy to know that the very appetizing Palak ki Dal is easily customizable. Feel free to add anything you want. Below are a few ideas to make it more interesting.
Along with Spinach, add other greens like Kale leaves, Bathua (Chenopodium), or Methi to your dal.
Toss in some veggies like pumpkin or carrot.
Besides the Hing and Jeera or Onion Tempering, you can also go for Panch Phoran Tempering to make it more flavorful.
Like squeezing lemon juice, add Achari Masala to bring a tangy taste.
My more interesting and mouthwatering dinner recipes.
How to make the Best Dal Palak at Home?
People have different ways of making Dal Palak. This new twist of the regular dal is a completely balanced meal packed with protein, fiber, and iron. We are here to help you make the Best Spinach Dal. Here are some tips:
Add more or less Spinach and adjust the spice levels as per your preference.
Use one kind of lentil or a combination you like- red dal (masoor), yellow dal (mung), or split pigeon pea dal(toor).
Blend spinach with some water for a creamy consistency.
Avoid garlic in the recipe to make a Jain-style Dal Palak.
Want to cook Vegan Dal Palak? Replace ghee with vegetable or olive oil.
To cook Gluten Free Dal, skip Asafoetida (Hing) or pick a gluten-free and organic hing to add a nice flavor to the Spinach Dal.
Why try the Recipe?
Spinach Dahl is a yummy and easy-peasy dish. It is extremely satisfying and gives a burst of flavors. Also, if you don't already know, Palak/Spinach is an absolute superstar among green leafy vegetables. Do you remember watching Popeye the Sailor Man as a kid? Popeye used to eat Spinach for extra strength every single time. That cartoon stated pure facts because Spinach is very nutritious for us.
Serve it hot with roti, side vegetable dish, raita or plain curd, and salad on the side. To take it to the next level, eat it with roasted papad and pickle. It makes for a wholesome and very tasty meal. Prepare it for a comforting dinner, lunch, or breakfast. You can also enjoy it with Jeera Rice, Steamed Rice, or Mata Pulao. It can last for about 2-3 days when kept in an airtight container in the fridge. Most people even have it with Missi Roti, Tawa Paratha, Bajre ki Roti or any other bread. Go Get Cooking!
Spinach Health Benefits:
It is low on calories and loaded with essential nutrients, which maintain the overall health of your body.
Spinach is an excellent source of carotenoids and zeaxanthin that prevents cancer by getting rid of free radicals.
The vegetable contains calcium and vitamin K that keep your teeth and bones healthy.
Palak is high in iron which prevents anemia and boosts your energy.
It also has potassium, which reduces the effects of sodium and controls high blood pressure.
Vitamin A-rich Spinach boosts your immunity, and the antioxidants prevent premature aging.
This green leafy has anti-inflammatory properties, reduces hypertension, gives hydration, and is good for your eyes and skin as well.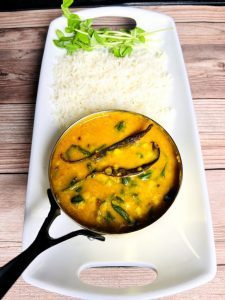 Homemade Quick Dal Palak Recipe | Spinach Dal Recipe
This Super Easy, Flavorful, and Tempting Dal Palak can be your new comfort food!
Ingredients
2

tbsp.

oil

1/8

tsp

Asafoetida

2

Red chili

Dry

1/2

tsp

Cumin seeds

1

tsp

Garlic

Crushed

1

tsp

Ginger and green chili

Crushed

1

Onion

1/4

tsp

turmeric powder

1/2

tsp

Red chili powder

1/4

tsp

Garam masala

1/2

tsp

Salt

1

tsp

Tomato paste

Spinach leaves

Boiled Dal

Lemon

Squeeze
Instructions
Cooking

-Take a pan.

-Add oil to it.

-To it add Asafoetida, Red chilies and mix them together.

-To it add cumin seeds, crushed garlic, ginger, and green chilies.

-Mix all the ingredients together.

-Add onion, Turmeric powder, Red chili powder, Garam masala, Salt, and Tomato paste.

-Give it a mix.

-To it add Spinach and mix them together properly.

-Adding boiled dal to it.

-Mix it all together.

-Squeeze a lemon to it.

-And mix all the ingredients properly.
Video
Nutrition
Calories:
85
kcal
Carbohydrates:
4
g
Protein:
1
g
Fat:
8
g
Saturated Fat:
1
g
Polyunsaturated Fat:
2
g
Monounsaturated Fat:
5
g
Trans Fat:
0.03
g
Sodium:
309
mg
Potassium:
94
mg
Fiber:
1
g
Sugar:
2
g
Vitamin A:
168
IU
Vitamin C:
13
mg
Calcium:
13
mg
Iron:
0.5
mg
If you want to make your Heart & Tummy Happy,
Make sure to try this Simple Dal Palak Recipe!